D. Brent Pogue Collection
Part V: An Appreciation

by John Kraljevich

For the last two years, most of my numismatic efforts have been concentrated on the cataloging of this magnificent collection. Since these undertakings began, I've been reminded consistently of the good fortune I've had to get to know so many expert numismatists who have been happy to help, eager to share stories, and generous in offering access to their libraries and their memories. Along with a research library that has been dutifully assembled over the course of three decades, these relationships have been the sine qua non of writing the Pogue catalogs.

Half cents and large cents, collectively termed "early American copper," compose the bulk of the present sale. They've also been the series that have most captured my attention over the course of my numismatic life. From the time that I was combing the flea markets of Pennsylvania for them as a boy, large cents have quickened my pulse more than any other series of United States coinage. While silver can take on a spectrum's range of toning, and gold has a liveliness all its own, there is no other coining metal with as wide a span of inherent variation and beauty as copper. The sedate gloss of a well worn cent may not match bright red luster in most collectors' estimation, but to those drawn to the coppers above all else, each has a distinctive appeal. Beyond visual attractions, no other series has as long and storied a past as do the early coppers. Coin collecting as we know it in this country literally owes its existence to the large cent. Just as the disappearance of silver from the tills of stores from Boston to Berkeley presaged an overwhelming growth of interest in coin collecting in the 1960s, so too did the end of the large cent's reign over pockets and countertops. The lowly cent became the coin that unified a nation of collectors in the late 1850s and the decades that followed. Before long, the finest of cabinets was defined by the finest of cents. The humble had become the most exalted. Read More
D. Brent Pogue Collection
Part IV: An Appreciation

by John Kraljevich
Just as history is always more intricate and intense as it is being lived than it seems in retrospect, assembling a collection like this one is a more complex endeavor than a neatly organized auction catalog containing 63 superb coins may make it seem. While the coins acquired by D. Brent Pogue and his father Mack fill this catalog, the fourth in a series, what's not included perhaps defines the Pogue Collection as much as what is included. Nowhere on the pages to follow will there be evidence of the hundreds, perhaps thousands, of auction catalogs that were scanned and set aside after discovering they offered no coin important enough to add to this collection. The hours of phone conversations held with trusted advisors are unrecorded and unmentioned. Trips to dozens of coin shows across the United States, peering in cases and fielding offers from all comers, are not cited within, nor are the years of experience required to discern true gems from fool's gold. Much of this collection was formed before the era of certification, placing extra importance on the eyes and courage of the purchaser. The expertise and confidence needed to purchase coins in such an environment is implicit here, even as the results of those processes are evident to all.
This collection was formed one coin at a time. While a few small groups were acquired en bloc, including the Lawrence Stack Type Set and the Foxfire Collection, most were added as they revealed themselves singly to the marketplace. Such an endeavor requires both patience and quick reflexes, the former enabling a collector to wait for the right coin, the latter allowing them to pounce when it becomes available. The spaces in between acquisitions were full of study, consuming books and catalogs, listening more than speaking when experts were around, and studying far more coins than will ever bear the Pogue provenance.
Read More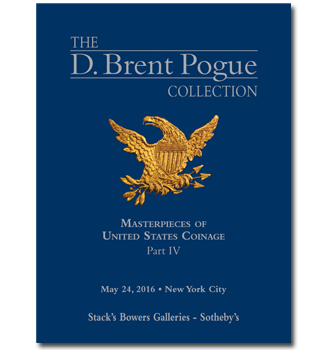 View the Virtual Catalog | Download PDF Catalog
Click Here to View the Prices Realized
D. Brent Pogue Collection
Becomes Most Valuable Ever Sold:
Pogue III Sale Brings Over $17 Million

NEW YORK, NY. (February 9, 2016) Leading all lots, the Garrett MS-65 RB (PCGS) 1793 Chain America cent, considered the finest surviving circulation strike Chain cent, brought $998,750, surpassing its $750,000 low estimate. Among gold coins, the high seller was the finest known specimen of the extremely rare 1815 half eagle, selling for $822,500, also surpassing its $750,000 low estimate. One of just six 1815 half eagles in private hands, the Pogue example was graded MS-65 (PCGS) and was formerly included in the Virgil Brand and R.E. "Ted" Naftzger collections. The Pogue Collection of $3 gold pieces, among the finest and most complete ever assembled, netted more than $2.6 million, far surpassing the $1.985 million total of their low estimates. The individual highlight was a Proof-65+ (PCGS) example of the Proof-only 1875 $3 issue, bringing $329,000, well in excess of the $250,000 high estimate.
The first 11 lots with a face value of 5½ cents realized $4,159,500, led by the finest 18th century half cent in existence, a MS-67 RB (PCGS) 1794 Cohen-7 that sold for $940,000. The finest known 1796 No Pole half cent, graded MS-67 RB (PCGS) and formerly a star of the Louis Eliasberg Collection, brought $763,750. Only five one-cent coins were included in this auction, all dated 1793. The total price realized for these five cents was $2,320,625, including the 1793 Sheldon-1 Chain Ameri. that nearly doubled its low estimate of $250,000 ($470,000) and the Garrett 1793 Sheldon-3 Chain America that sold for nearly $1 million. Read More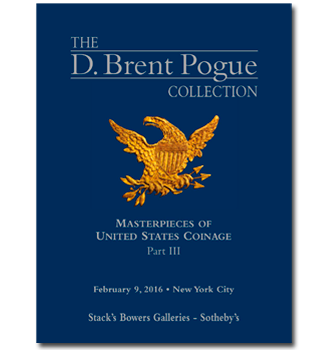 View the Virtual Catalog | Download PDF Catalog
Click Here to View the Prices Realized


Pogue in the Media:

CoinWeek: Exclusive Private Lot Viewing of Pogue III Sale Highlights in 4k Video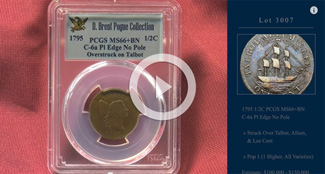 Stack's Bowers gave CoinWeek readers an exclusive private lot viewing of some of the the rarest and most important coins from the upcoming third sale of the coins of the D. Brent Pogue Family Rare Coin Cabinet.
Collection Updates
If you would like to receive continuing information on the sale of The D. Brent Pogue Collection, without obligation, contact Christine Karstedt by email at [email protected].